MediaWhiz Launches New Ad Network – ShoppingAds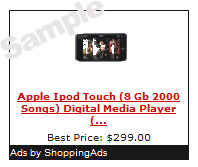 MediaWhiz has launched a new ad network called ShoppingAds. It is meant to be a replacement for AuctionAds. AuctionsAds offered CPA ads only while ShoppingAds will offer a combination of CPA and CPC ads. AuctionsAds was linked through to eBay while ShoppingAds can link to any number of advertisers. ShoppingAds will display CPC ads to site visitors from the USA while international visitors will see geo-targeted CPA ads from eBay.
Some users of AuctionAds have complained of high numbers of clicks with very a poor conversion rates. AuctionAds works best on product-related sites in specific niches (ex. baseball cards). For example, some AuctionAds users are seeing RPC as low as $0.01 to $0.02. It's too soon to say what the overall RPC will be for ShoppingAds. However, my guess is that it will be in the $0.10 to $0.25 range. (Remember, don't click on your own ShoppingAds or you'll get banned in a jiffy.)
ShoppingAds pays the first of every month via Paypal only. There is a $50 minimum for earnings. They feature a 30-day cookie on all referrals.
Program Details
Ad Formats: 11 formats
Colors/Borders: Fully configurable
Contextual: No
Ad Targeting: Keyword
Specific Product Ads: No
Languages: English only
International Sites: Yes
Multiple Sites: Yes
Second Tier: Yes
Cookie Life (referrals): 30 days
Traffic Minimum: None
AdSense Compatible: Yes
Ad Units Per Page: No limit
Payment: PayPal ($50 minimum)
Looking for a keyword-based ad network that works for international traffic and won't hassle you about low site traffic? Then, give ShoppingAds a try. You'll be glad you did!