Sansa Clip – Matchbox Size MP3 Player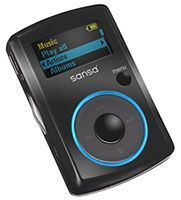 If you want to compete in the crowded super-tiny MP3 player market, you need a unique design and killer feature set. Check out the SanDisk Sansa Clip. It includes a small OLED screen that displays playlists and currently playing tunes. It is compatible with both MP3 and WMA files, has an integrated FM tuner with 20 preset stations, a microphone for voice memos, and a long-lasting rechargeable battery. You have a choice of four different colors in either 1GB or 2GB storage capacities.
The Sansa Clip has a hi-speed USB 2.0 port for fast and easy transfer of files from your PC or laptop. Expandable? No. Inexpensive? Yes! You can get the 1GB version for about $40 and the 2GB version for about $60.
If you are looking for an even smaller MP3 player, consider the Sansa Express shown below.
---