Sony Unveils Flexible, Full-color OLED Display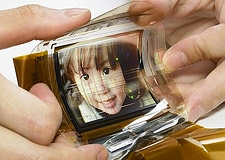 Sony has announced (press release) an OLED display on plastic film. It is apparently the world's first full color OLED/organic TFT on a flexible substrate. Sony managed to create a 2.5 inch flexible display featuring a resolution of 120×160 pixels (RGB). Other specifications of the flexible display include 100 cd/m2 brightness, 1,000:1 contrast ratio and 0.3mm thickness of the panel. Sony demonstrated the new display at the SID 2007 Synposium held last week in California. The first devices Sony intends to market are miniature TV sets later this year.
According to Engineer Live!, the main challenges that will prevent wider adoption of OLEDs for the television market are poor manufacturing yields, limited lifetimes and pricing. As such, they say it is likely that the first OLED-TVs will be small and designed for novel locations such as kitchens or bathrooms. The total available market for this sort of television is small.
Still the 'cool factor' is not to be ignored! Check out the video.
[youtube]http://www.youtube.com/watch?v=TDuP8PtDJbE[/youtube]
---