New Netgear Cordless Phone for Skype and Landlines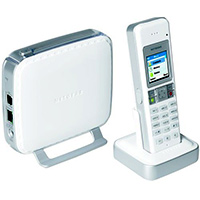 We are big fans of Skype phones here at RL Digital. First came the USB wired Skype phones, then the cordless Skype phones, and now combo landline and Skype phones.
The Netgear Dual Mode Cordless Phone has Skype built directly into the phone, so you can connect it to your existing Skype account to send and receive calls. The base station connects not only to your broadband router for Skype access, but also connects to your traditional landline allowing you to make and receive regular calls as well.
Set-up is easy. Just plug the base unit into your router and it will connect automatically to your network. You can enter in your Skype name and password on the numeric keypad or through the web browser – the base unit has a configuration page similar to Netgear routers. Once your name and password have been entered, you can start making calls.
Reference Links
Netgear at CES
Skype Phones at Amazon.com