Google Updates Webmaster Tools
Vanessa Fox (Google Product Manager) unveiled new features this week on the Official [tag]Google[/tag] [tag]Webmaster[/tag] Central Blog that have been added to Google's Webmaster Tools.
What's new?
Googlebot activity reports
Crawl rate control
Enhanced image search
Number of URLs submitted
Check out the cool charts that show you the number of pages Googlebot's crawled from your site per day, the number of kilobytes of data Googlebot's downloaded per day, and the average time it took [tag]Googlebot[/tag] to download pages.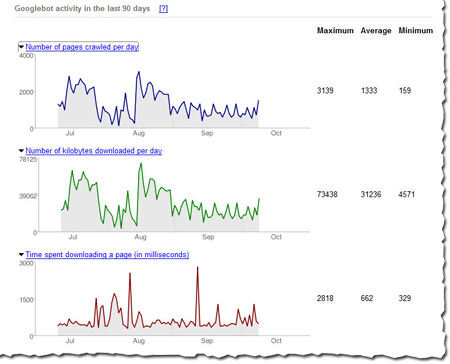 For a complete description of the new features read the post. Or, go right to your sitemap page (whoops, Webmasters Tools page) and see for yourself!
In case your missed it – back in early August, Google renamed Google Sitemaps to Google Webmaster Tools and added the service to their Google Webmaster Central channel which includes Site Status Wizard, Submit Content to Google Base & Book Search, Google Webmaster Blog, Google Webmaster Group, and the Google Webmaster Help Center.<!– gzpyzkq –>