Google Alerts for Blogs – It works!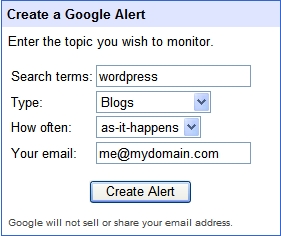 News about Google Alerts has been splashed around the net for the last week or so. If you subscribe to a [tag]Google[/tag] News alert for your company or topic of interest, you can now receive the same style alerts for content in the Google Blog Search index. Registered users can setup an advanced search, or choose to receive general updates via RSS feeds and critical updates via e-mail.
I wrote a positive piece in my Photography Blog about a company that allows photographers to sell their photos online. A day after the post was published; I received an email from the Managing Director of the company thanking me for the kind words. He mentioned in his email that he had been notified about my post via Google Alerts. Kudos to Google for giving legitimacy to blogging!<!– gzpyzkq –>
Of course, in order to be listed quickly in Google's Blog Search results you need to ping Google. See my post on how to set-up Google auto-pinging from a [tag]WordPress[/tag] blog.