Google Launches New Mobile Application for Gmail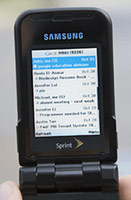 [tag]Google[/tag] just announced the availability of a new mobile Gmail client. The free downloadable Java application delivers Gmail through a fast, feature-rich interface that is optimized for handheld devices.
This news is a welcome development as the existing web-based application is very plain and not at all user-friendly. I was never able to find the reply button! And, typing in email addresses in not fun!
The new client is a mini-version of [tag]Gmail[/tag]. It comes complete with search, conversation view, and automatic synchronization with the desktop version.
According to the press release, key improvements are:
Up to five times faster access and use, thanks to automatic pre-fetching of messages
Drastically reduced clicks and scrolling to access email
Fewer keystrokes for reading, composing, or searching mail
Attachments, including files and photos, viewable and automatically resized to fit the user's phone
Users can go to gmail.com/app from their mobile browser to download the app. If you don't already have a Gmail account, you can sign-up for one via SMS by going to gmail.google.com and clicking on 'sign up for Gmail'.
The application is available free of charge from Google (carrier mobile data charges still apply). Currently, it's compatible with all J2ME-enabled phones worldwide and works with a variety of carrier service plans. <!– gzpyzkq –>
_______________________________________
Follow-up: I had problems getting the app to install on my Treo 650 until I added the 'WebSphere Everyplace Micro Environment'. I kept getting an error saying the file was not compatible with my phone. Follow the instructions on the download/install page then reset your phone. Try the Gmail app again and make sure to download the file to the phone not the SD card. Then, you will find an IBM J9/Java Application icon on the Main Page. Run that and it will set up the Gmail client. Entering the Gmail login passwords is a bit funky as tapping the field box(es) takes you to a text editor. Anyway, the Gmail client works much better than the old browser interface!