Squeeze More Income from your Blog with Slayer's Custom Widget Plugin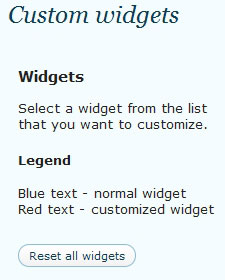 The introduction of sidebar widgets in WordPress have resulted in a huge time savings. Gone are the days of pasting code into sidebar.php just see your layout go wacky. The capabilities of widgets in the basic WordPress installation are, however, very limited. By default, all widgets appear wherever the sidebar is loaded within your theme. If you are using widgets to display ads, you cannot choose on which pages the widgets appear.
Slayer's Custom Widget Plugin solves this problem. This plugin enables you to select which widgets appear on specific posts, pages, categories, author's posts and tag pages. You can even configure where widgets are displayed per WordPress template using conditional tags.
Installation is easy. Upload the slayer-custom-widgets directory to wp-content/plugins. Then, activate the plugin in the usual way. If you already have widgets installed, you can go directly to the Slayer's Custom Widgets link found just under the settings section of your admin panel (WordPress 2.7). Configuring your widgets is simple and the layout is very logic. You'll want to go back to the Appearance Menu and add more widgets once you get the hang of it.
I have already installed Slayer's Custom Widget Plugin in two blogs. Both are working perfectly. The level of control that the plugin provides is really fantastic. Watch the short video then go to the WordPress Plugin Directory and download the plugin.
[youtube]http://www.youtube.com/watch?v=m0h9_JXmXMc&e[/youtube]