Tumri AdPods – a Chitika eMiniMalls Killer?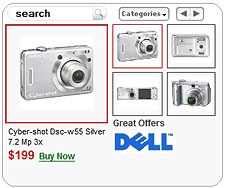 TumriFounded in 2004, Tumri is based in Mountain View, CA. CornerStore has been rebranded as Tumri AdPods with a major relaunch on May 7th. The AdPod is, according to Tumri, "a complete reinvention of the online ad unit, with a never-seen-before mix of interactive branding, merchandising and customized offer-based advertising, AdPod is the consumer shopping experience interface on the publisher's site". Tired of boring static ads? The key thing is that the AdPod is interactive presenting multiple products and vendors in a single ad unit.
The AdPod offers both CPC and CPA advertising. Publishers can choose inventory from over fifteen hundred merchants that include Amazon, Walmart, Sharper Image, Shopping.com, Target, and Overstock. Publishers make money if a visitor clicks on an ad or, in other cases, only if they actually buy the product. This depends on the arrangement Tumri has with each vendor. Publishers get a 50 percent split of revenue. See Tumri's detailed explanation of how it works.
Pros
Instant acceptance
Pay both CPC and CPA
1,500 merchants and 5,000 brands
Multiple AdPod formats
Multiple sites allowed
Change categories and merchants from admin panel
Innovative reporting
Payout after reaching $25 (check or PayPal)
Responsive support
Cons
No choice of AdPod themes (backgrounds)
No specific product targeting
No second tier
Installation is a snap — a simple ten-line JavaScript tag that is a trouble-free, one-time plug-and-play. All future changes (except ad format) can be made from the admin panel available 24/7.
What about [tag]Tumri[/tag] Adpods vs Chitika eMiniMalls? For now, I can't comment as I just started with Tumri and have AdPods running on multiple sites. However, well-established sites such as the The Photography Blog seem to be favoring the AdPod in place of the eMiniMall. You can also see multiple AdPods on SheSheMe.com.
Rumors are that Tumri will be launching a publisher portal for Europe later this month.
Hurry and sign-up as a Tumri publisher before Father's Day shopping starts. You can see a working AdPod on the sidebar.
[youtube]http://www.youtube.com/watch?v=wAstBOTcprI[/youtube]