Toshiba HD-A20 – 2nd Generation HD-DVD Player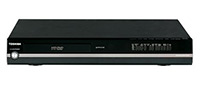 [tag]Toshiba[/tag] announced a new mid-range [tag]HD-DVD[/tag] player at CES 2007, the HD-A20, which sits between Toshiba's HD-A2 and HD-XA2 models in regards to price and features. It retails for about US$600 and increases the resolution from the HD-A2's 720p/1080i to a full 1080p.
This new model reduces costs by withholding the HD-XA2's costlier HDMI 1.3 output and its accompanying support for deep color as well as enhanced Dolby and DTS HD sound. Other features remain identical to the A2, the company's basic 1080i-capable model.
What can you play on it? The new HD-DVDs, of course, as well as standard DVDs up-res'ed to look nicer. It can also play standard CDs. A nice bonus is an ethernet connection in the back for software and firmware upgrades. DVD titles are interactive allowing scene selection and menu access all while the movie is playing.
Currently, there are about 160 HD-DVD's available. About 300 more titles are due out this year.