Squeezebox Wireless Network Music Player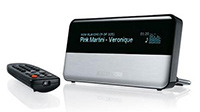 Squeezebox v3 streams digital music or MP3 Internet radio stations to any digital and analog stereo over a home 802.11g wireless network. This device is the easiest way for music lovers to enjoy high-quality playback of their whole digital music collection (compressed and uncompressed audio files) anywhere in the home.
[tag]Squeezebox[/tag] is easy to install. Once the SlimServer software is installed on your main music PC, running through the network setup wizard on the device itself is a snap. You can be streaming your digital music files to your existing stereo setup in a matter of minutes. The Squeezebox supports WEP and WPA security encryption too, so you won't have freeloaders enjoying your wireless music.
There are other ingenious features not often mentioned. If you don't like the remote control, the SlimServer software runs as a web server on the host PC. All you need is a wireless device with a web browser (PDA, laptop, phone) installed on it and you'll be able to access a more fully functional and attractive control interface. Just tap the IP address of the host PC in the device web browser and open it up on port 9000. Then, you can browse your music library, build playlists, change settings etc.
Also, Squeezebox can be configured to act simultaneously as a wireless bridge. This means that you can use it to connect devices to your wireless network that would normally require a wired connection (i.e., Xbox or PS2).
In addition, Squeezebox includes many features not found in similar products. These include a built-in alarm clock, SHOUTcast directory, music selection by Album Art, BBC news ticker and more. In the back you will find audio outputs, digital coax and optical, analog RCA, and mini-jack connector.
The v3 Squeezebox is rated 5-stars from 28 customer reviews on Amazon.com!
Reference Links
Squeezebox v3 Wireless Music Player
Squeezebox v3 Wired-only
Best Sellers in Electronics at Amazon.com