SanDisk Sansa Connect Wi-Fi based MP3 Player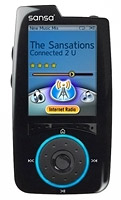 Sansa® Connect MP3 player is the first Wi-Fi based MP3 player from SanDisk. Designed as a flash-based player, it keeps you connected to your music, friends and fresh new entertainment streams via WiFi (if available). The Sansa Connect plays music, photos and Internet radio. It has a very attractive, sleek design includes a 2.2″ TFT color screen with advanced navigational features and an easy to use interface. For now, there is only one version available with 4GB of memory.
SanDisk's recent partnership with Yahoo! Music means that Sansa Connect owners with a Yahoo! ID will be able to listen to LAUNCHcast Internet radio and browse Flickr albums and photos, as well as purchase and download songs from their subscription music service. The unit also works with Microsoft PlaysForSure subscription music service.
Feature List
Play music and view your photos
Enjoy Internet Radio wirelesslyMay require subscription to access content and an open WiFi network.
Connect to any open Wi-FiTM network
Get your music subscription library on the goRequires music subscription service and an open WiFi network.
Recommend songs to your friends
Sleek, attractive profile with large 2.2" TFT color screen
4GB memory plus MicroSDTM slot for capacity expansion
Features an internal speaker
Standard Sansa connector for 'Made for Sansa accessories
Requires Windows® XP or Vista® Operating System
What's in the box?
Sansa Connect MP3 player, AC charger/adapter, USB 2.0 transfer cable, Earphones, Protective case, Lanyard, Quick Start Guide, and Installation CD with user guide.