Microsoft introduces Watermelon Red Zune Player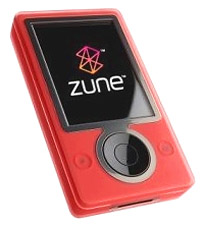 Microsoft [[MSFT]] has announced a new summer color for it's popular Zune digital media player. The new 'watermelon red' color Zune will be available exclusively at Target and Amazon on June 10th in time for Father's Day promotions for both companies. The exclusive period lasts for 30 days after which the red Zune will be available in all the same retail locations where the Zune is currently sold. The red Zune joins the recently released pink Zune and forthcoming Zune Halo 3 as the third in a series of special edition Zune players.
The casing is ruggedized protecting the player from scratches. As with all Zune players, the 30GB red Zune offers a built-in FM tuner and wireless connections that allow you to share your music with others who have Zunes. The new red Zune can plug into a Altec Lansing M604 Zune speaker dock to deliver incredible, clear sounds for your summer BBQ.
There is no information about the total number of red Zunes that will be available. However like the pink Zune, the new color will probably be limited to 100,000 units or less. With rumors of a second generation Zune coming soon, any new model available on the market is probably a limited-edition.