Logitech New QuickCam Ultra Vision for Video Calls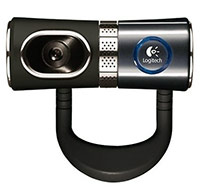 Remember when webcams were big and ugly? I do. Well, those days are gone. Now a webcam is a must for the myspace set and finding more use by businesses as well.
Too cool! The new Logitech QuickCamâ"¢ Ultra Vision Special Edition has a true 1.3 megapixel sensor coupled with RightLight 2 Technology enables you to capture fine details in dim, side- and back-lit situations. It works with all major IM and VoIP applications, including [tag]Skype[/tag], Yahoo, MSN, and AIM and has a built-in microphone with RightSound technology.
According to Logitech [[LOGI]], "Enjoy true-to-life video calls with twice the image clarity of conventional webcams, thanks to the precision engineered, 5 element glass lens. QuickCam Ultra Vision uses Logitech RightLight 2 Technology to give you the highest quality image regardless of your lighting, and RightSound for clear, echo-free audio. It´s video calling that truly is true-to-life".
The Logitech Quickcam™ works with Windows® 2000 or Windows XP. See the complete set of requirements at the Logitech site.
See also:
Webcams at Amazon

Best Sellers in Electronics at Amazon.com
[tags]Logitech[/tags]