LaCie F.A. Porsche 320GB External Hard Drive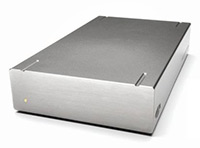 I have to admit that I have a number of external hard drives all made from separately purchased enclosures and drives. Plug and play external drives were just not to my liking due to both cost and design. Those days are coming to end with the availability of devices like the LaCie F.A. Porsche Series. Previously, there were 100GB, 160GB and 250GB models… and now a 320GB model (shown here) is available.
Ugly? Not a chance! LaCie enlisted the world famous design agency, Porsche Design GmbH to design the enclosure. The sleek and sexy case is stackable for future expansion. And, there's no fan to add to the din in your office. Available only with a Hi-Speed USB 2.0 interface (no Firewire). The device is Plug and Play. However, you will need to format the hard drive. The following operating systems are supported: Windows 98 Second Edition, Windows 2000, Windows Me or Windows XP; Mac OS 9.1 or Mac OS 10.2.1 and greater. Comes with LaCie '1-Click' Backup Software.
The LaCie F.A. Porsche 320GB External Hard Drive is rated 5-Star by 3 reviewers on Amazon.com. The price is only $135.10 with free shipping.
What's next – a 500GB version? You guessed it! It's coming soon here already.
See also: Best Sellers in Electronics at Amazon.com