IronKey Secure Hardware-Encrypted Flash Drive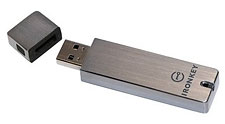 Have you ever panicked that you have misplaced or lost your flash drive? The thought of sensitive data getting in the hands of an identity thief give you the chills? Get yourself an IronKey! An IronKey flash drive gives you military-grade security allowing you to protect your data, passwords and web surfing with hardware-based encryption. The IronKey is your own portable Fort Knox.
Still not convinced? The IronKey's rugged metal casing is injected with an epoxy compound that makes it not only waterproof but tamper-proof. It is virtually impossible for someone to tamper with an IronKey without causing irreparable damage rendering the unit unusable.
The [tag]IronKey[/tag] password is hashed using SHA-256 functions before being transmitted to the IronKey Secure Flash Drive over a secure and unique USB channel, and stored in an extremely inaccessible location in the protected hardware. The password try counter is also implemented in hardware, to prevent memory rewind attacks. Typing your password incorrectly too many times initiates a "flash trash" self-destruct sequence, which is run in hardware rather than using software. IronKey's patent-pending "flash-trash" methodology incorporates an exhaustive hardware erase of all flash and Cryptochip memory.
When you visit a website and log into an account, the IronKey Password Manager asks if you would like for it to store and remember that password for you. If you choose to save this password, it is stored in the encrypted Password Manager database, which is doubly encrypted. If you plug your IronKey into a computer that has keystroke logging software on it, or if your computer becomes infected with a keystroke logger, you will be protected because the IronKey Password Manager enters your passwords for you into your web pages, instead of have you type them in.
Any downside? IronKey only works on computers running Windows XP and Windows Vista. Mac OS and older versions of Windows are not supported.
The IronKey costs about $140 for the 4GB version, $100 for the 2GB version, and $75 for a 1GB version. Certainly, a small price to pay for secure and portable data. See links below.