iCarta iPod Stereo Docking Station with Bath Tissue Holder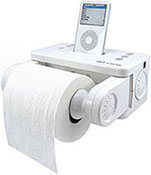 With more than 100 million iPods sold, you can expect some wacky accessories from 3rd party manufacturers. The iCarta Stereo Dock with Bath Tissue Holder is certainly unusual! No, it's not a joke. You can really buy one (see link below).
Here's the pitch: "The bathroom is one of the most important rooms of any home. People often add radios to a bathroom shelf or in the shower. Why just settle for a radio? iCarta now lets you bring and enjoy your iPod into your private sanctuary". Hmmm… makes sense!
Need a gift idea for someone who has (almost) everything? Now you found it!
Features
4 Integrated high-performance moisture-free speakers
Charges your iPod while playing music
Audio selector allows you to play iPod shuffle or other audio device
Integrated bath tissue holder that can be easily folded as a stereo dock
Requires AC Power (AC adapter included)
Accepts standard toilet paper rolls
Easy to remove from wall mount
Dimensions
(W x H x D): 8.25in x 3.68in x 7.12in
Power Requirements
12.5 V, 1.25A AC adapter
Speakers
2 x tweeters for highs
2 x woofers for lows
Compatibility
Made For iPod – compatible with all iPods with dock connectors.