Harry Potter Book Covers Released (U.S. and U.K. Versions)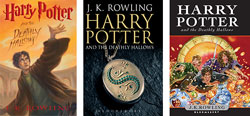 Publishers Scholastic in the USA and Bloomsbury in the U.K. have released covers for the seventh and last book in the Harry Potter series, Harry Potter and the Deathly Hallows. From left to right are the U.S. version, the U.K. adult version, and the U.K. children's version.
On the front of the wraparound cover of the U.S. version, 17-year-old Harry reaches his left hand toward an orange sky. On the back, spidery hands reach for Harry. Only when they open the book can readers see those hands belong to Potter's enemy, Lord Voldemort, whose glowing red eyes peer from under a hood. Harry is wearing an amulet in a pouch around his neck.
The cover of the U.K. adult's version depicts an amulet – it is the very amulet that Harry desperately needs? Harry's task in "The Deathly Hallows" is to leave what should have been the safe places of his world (Privet Drive, the Burrow, even Hogwarts) to find the talismans before Voldemort or his supporters (the Death Eaters) find it.
The cover of the U.K. children's version of "Deathly Hallows" reveals another clue: that Harry won't be alone on his search. On this cover, Harry is falling into (or out of) a treasure trove, along with Ron and Hermione. Jewels, coins and armor surround them, but they don't look happy to be there. And, an unidentified house elf behind Harry is armed with a sword.
Mark sure you pre-order the book so you can be among the first to know the entire plot! The book will ship on July 21st. Scholastic has said it will print 12 million copies of the book, breaking the record held by the sixth book, "Harry Potter and the Half-Blood Prince".
Reference Links
Harry Potter Store at Amazon.com

Harry Potter Store at eBay.com