Eton American Red Cross Emergency Radio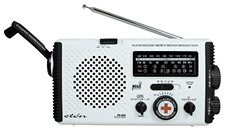 An unexpected emergency can leave you with limited or worse yet no power sources. The American Red Cross FR400 is the top of line of Etón's American Red Cross branded, weather-resistant emergency radios. The FR400 has a dependable hand-crank power generator that powers the unit's AM/FM/TV/Weather radio, built-in flashlight, cell phone charger and emergency siren all surrounded by a sturdy, weather-resistant casing.
At the heart of the FR400, is an internal generator that recharges the internal Ni-MH battery pack and powers the radio, siren, and light. Also, you can use the crank to power your cell phone (the FR400 comes with several cell phone adapters)The rate of cell phone recharging will vary greatly depending on the cell phone and the state of its battery, but the FR400 can provide your compatible phone with power in a pinch..
The FR400 offers AM/FM reception as well as 7 NOAA weather channels and a weather alert, and TV-VHF audio reception for channels 2-13. The FR400 operates from a wind-up generator, ac adapter, or 3 AA cells (not supplied). All antennas are built-in except the telescopic antenna for FM.
The generator charges replaceable NiMH cells (supplied). Two turns per second for 90 seconds will provide 40 to 60 minutes of operation. The controls are easy to use. A built-in triple LED light with emergency light source built into the side of the radio.
The FR400 is available in 7 colors: silver, orange, black, red, blue, pink, and camouflage.
Dimensions: 8.7 x 4.5 x 2 in. Weight: 1.3 lbs.
Eton Corporation makes a contribution based on each sold radio to support the American Red Cross.
What's in the Box
FR400 radio, cell phone charging adapters, nylon carrying case, and American Red Cross pamphlet.