Digital Foci Pocket Album on a Keychain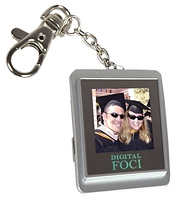 Looking for a unique Christmas gift? The Digital Foci (pronounced "foe-sigh") Pocket Album with 1.5″ color screen lets you view your favorite photos anytime, anywhere. You can even pre-load photos to make the gift even more special.
The Pocket Album runs on a Lithium-ion battery with up to 9 hours of battery life. You can easily recharge the battery with included AC adapter or with USB power by connecting it to your computer. The unit also features a built-in clock with automatic on/off timer. The LCD screen contrast is adjustable for choosing your optimal viewing angle.
Features
Holds up to 74 digital photos with 8MB internal flash memory
1.5" color LCD screen
9 hours of battery life using Lithium-Ion batteries
LCD contrast adjustable for choosing optimal viewing angle
Builds automatic photo slideshows with adjustable time intervals
Built-in clock with automatic on/off timer
Photo Viewer Software (compatible with Windows Vista/XP/2000, Mac 10.x or later)
Rechargeable battery with included AC adapter or via included USB cable
Measures 2.2″ x 1.6″ x 0.5″ and weights only 1.2 oz
The user-friendly Photo Viewer Software (included) is used to convert JPG or BMP images from your computer to Pocket Album. The software also lets you crop and rotate photos you wish to transfer, before automatically resizing them for optimal storage and display on the pocket album.
The Digital Foci Pocket Album is priced at about $40 and is available at Amazon.com.