Apple Mac OS X v10.5 (Leopard) Available for Ordering on Amazon.com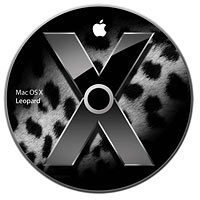 Apple's upcoming release of 'Leopard' is now available for ordering on Amazon.com. Leopard contains over 300 changes and enhancementsSee Mac OS X Leopard Features.. New features include support for writing 64-bit graphical user interface applications, an automated backup utility called Time Machine, support for Spotlight searches across multiple machines, and large revisions to most core operating system components.
Leopard is scheduled to ship in OctoberIf the Amazon.com price decreases between your order time and release date, you'll receive the lowest price., although no firm date has been given yet. Leopard was first mentioned in June 2005, Apple [[AAPL]] CEO Steve Jobs had stated that Apple intended to release Leopard at the end of 2006 or early 2007. A year later, the ship date was revised to "Spring 2007". Then on April 12 of this year, Apple issued a statement that Leopard's release would be delayed until October 2007 because of the development of the iPhone.
Amazon is now offering the single license as well as the family pack (which covers up to five users).
[asa]B000FK88JK[/asa]