QR Codes – the next big internet trend?

A QR Code (QR = Quick Response) is a two-dimensional bar code introduced by the Japanese company Denso-Wave in 1994. QR Codes were originally developed for inventory tracking in auto manufacturing. They are the most popular type of two-dimensional code in Japan. Many business persons in Japan include QR Codes on their business cards. This simplifies exchanging and entering data for new business contacts.
Recently, mobile telephone operators in Japan began including QR code reading software on camera phones. This move has paved the way for consumer-oriented applications of QR Codes. Users photograph QR codes. Then, their camera phone decodes the embedded text, displays, manipulates, and stores the information. This capability eliminates the need to enter data manually into a mobile phones or PDA. QR Codes for storing URLs are becoming increasingly common in advertisements and in magazines in Japan.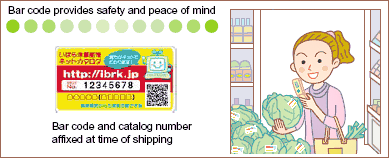 What about patent issues? According to Wikipedia, "QR Code is open in the sense that the specification of QR Code is disclosed and that the patent right owned by Denso Wave is not exercised." — from the Denso-Wave website.
For this convenience to catch on outside Japan, QR-enabled phones need to become widely available. There are code reader add-on apps such as the one offered for free by Kaywa. However, only a limited number of phone models are supported.
Microsoft Windows Live Service has an online tool for generating QR Codes. (The site has been down for the last few days.)
Competition is already on the scene outside Japan. MobileTag, developed by the French company Abaxia, and ShotCode, created by a Dutch-Swedish company called OP3 are hoping to preempt QR codes in Europe. In North America, Semacode is pushing 2-D barcodes that looks amazingly similar to QR Codes.

Elecom Co. Ltd. has introduced a USB mouse with a built-in optical QR reader that can handle both the traditional black and white versions of QR Codes as well as the newer color versions. No, it's not cordless and it doesn't look very ergonomic. No price or availability information yet either.

The Nokia N93 available in USA and Europe comes with the QR Code Reader pre-installed. Instructions for using the reader are on page 109 of the User Guide (page 111 of pdf version). If Nokia makes the reader standard in their camera phones, it could help kick-start the trend outside Japan.
Reference: Mobile Media and Applications by Christoffer Andersson.