Ruminations on Performancing Partners Ad Network
[tag]Performancing[/tag] Partners new blog ad network is in pre-launch with a sign-up push prior to going live. The model is direct advertising for a monthly flat fee basis based on recommended CPM for category type, and CPA (cost per acquisition). Most participating blogs are displaying the sign-up medallion (see below left) while a few beta testers are actually running ads.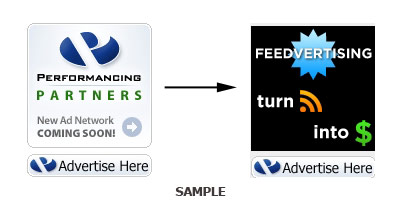 Peformancing members are mostly low and medium traffic blogs. Initial pricing looks more favorable to publishers than advertisers. The deliverable is 125px square ad placed above or near the fold of the blog. Publishers get an image ad for a lower price than they would pay for a Text Link Ad. Advertisers get, well, in many cases not very much.
It seems that the only thing Performancing takes into account when setting a blog's price is page impressions. TLA, on the other hands, uses a much more sophisticated algorithm (traffic, pagerank, backlinks, and ad position) when they calculate your blog's worth.
An example is my Photography Blog. According the Text Links Ads Tool, one text link in my sidebar is worth US$12.00/month. Performancing has valued one 125px square ad in the same location at US$9.00/month.
In all fairness, Performancing's system is new. Also, I changed the domain last month and lost my page rank. Still, my guess is they are having a sale on ads in order to get the program off the ground in a hurry. And, I agree with that strategy. I have auto-pricing turned on so the value of an ad on my blog with be updated monthly to reflect traffic changes.
Right now, Performancing is telling bloggers to put the code into the blog's sidebar template. Getting the ads to appear in a WordPress post or on a page will require a plugin such as Adsense Deluxe or equivalent. I guess that is a level of complexity that they don't want to deal with yet.
Most bloggers look at space in their sidebar like it's property in the Ginza. Performancing will have to boost their payout to [tag]bloggers[/tag] as time goes on to stay competitive. Let's see! They are expecting to go live in the next day or two.
Addendum Oct. 24, 2006: I received an email today from Performancing telling me that they have raised the price set for one ad on my Photography Blog to $25/month. Now, things are starting to improve. They have started rotating the message in the medallion also.
Addendum Oct. 25, 2006: Performancing updated their site today alerting bloggers that they have been detecting ad blocks placed below the fold and adjusting their price accordingly (down 50%). Over the weekend, I moved the ad medallion above the fold. That change, no doubt, contributed to the jump in price.
Addendum Jan. 31, 2007: Much to the dismay of the publishers, Performancing announced today that the Partners Ad Network will be closed. Publishers should remove the ad code as soon as possible.