Performancing beta tests "Network Ads"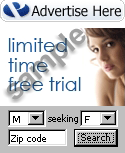 Advertisers have have been a bit slow at booking individual ads on Performancing Networks member blogs (especially for low traffic blogs). Bloggers have complained that the publisher sign-up medallion takes up valuable sidebar space. As a solution, [tag]Performancing[/tag] has launched Network Ads. They're CPA (cost per action) ads that fill unsold ad space until a regular advertiser wants that space for themselves. Initially the ads will be limited to around a dozen fairly "universal fit" brands/products to test the system, and help them fine-tune targeting for categories. Members can 'opt out' from their control panel.
Here is how the ads work:
Network Ads will appear in place of "empty slots", but below paid slots.
Network Ads are CPA – Cost Per Action.
More details on creatives and payouts will be available during launch.
Payout is a simple 70/30 split between publisher and Performancing.
Initially, ads will be "universal fit" to test the entire network
Initially, features will be very limited.
There is no guarantee bloggers will earn money.
According to Nick Wilson, the ads are geo targeted. So if you're outside of the USA, the offering is more limited. Visitors in the USA will see ads targeted to them.
Comments are piling up on the Performancing Forum from blogger wanting to opt out after see the 'single ads' (shown here). Geez! Give Performancing a chance. The network have only been running for one day! And, it is 'beta' after all.
Other complaints have been about CPA rather than CPC. Frankly speaking, I prefer CPA because the ads will not violate [tag]Adsense[/tag] TOS.
You can see the real ad lower down on the sidebar. I will put it in a better location once the ad program is out of beta.
Addendum Dec. 17th: Today, Performancing stopped the beta ads. Whether it is because they have completed the testing or because of complaints (singles ad), I don't know.