Naked Conversations – on Amazon's Best Books of 2006 List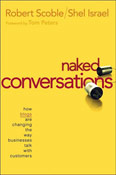 [tag]Naked Conversations[/tag]: How Blogs Are Changing the Way Businesses Talk with Customers by Robert Scoble and Shel Israel made it on Amazon's Best [tag]Books[/tag] of 2006
, Top 10 Editors' Picks: Computers & Internet.
Robert Scoble helps run Microsoft's Channel 9 Web site. He began his blog, Scobleizer, in 2000 and now has more than 3.5 million readers per year. Scobleizer has been mentioned in Fortune magazine, Fast Company, and The Economist. Shel Israel played a key strategic role in introducing some of technology's most successful products, including PowerPoint, FileMaker, dBase, MapInfo, Paradox, Sound Blaster, and Sun Microsystems workstations. He is an expert on innovation with more than twenty years of hand-on experience. (mouseover the thumbnail for ordering information)
From the Publisher:
Naked Conversations explains the why and how of blogging to business people. It helps businesses strip away the layers of corpspeak (consisting of a mixture of bull, polish, and obfuscation) that prevent businesses and customers from really getting to know each other. It shows businesses how to use blogs to have a meaningful dialog with customers and partners without layers of polish and shine that customers know obscure real meaning.
From Publishers Weekly:
For the past five years, Microsoft employee Scoble has maintained one of the most popular blogs on the Internet. Mixing personal notes with passionate, often-controversial commentary on technology and business, his blog is "naked"—i.e., not filtered through his employer's marketing or public relations department—a key part of its appeal. In this breezy book, Scoble and coauthor Israel argue that every business can benefit from smart "naked" blogging, whether the company's a smalltown plumbing operation or a multinational fashion house. "If you ignore the blogosphere… you won't know what people are saying about you," they write. "You can't learn from them, and they won't come to see you as a sincere human who cares about your business and its reputation."
[tags]Amazon[/tags]