Firefox 2.0 Released – Why should you care?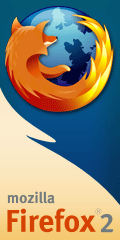 I am bit late with this post. The much-heralded v2.0 of Mozilla Firefox has been hyped in the press non-stop for the last few days.
Most Windows users got started with Internet Explorer 'cause it came with their Windows Operating System. The latest version, IE7, has added tab browsing, phishing filter, and some other cool features. Installation, however, is quite lengthy requiring at least one reboot. If you were using a beta version, you need to uninstall it first.
Firefox 2.0 is a single 5.5 MB download. It will install over an existing Firefox installation. Bookmarks and extensions are kept intact. Version 2.0 includes a new interface theme and more security protection such as built-in phishing protection. It also has session memory, which upon reopening the browser, brings back the set of Web pages that were in use when it was last closed*. Changes have also been made in the technology to import RSS feeds, which now offers a feed list view with title and first lines.
Each browser has it pros/cons for routine use. You can get along with either one for basic browsing. If you are doing any kind of web development or even blogging, you really need both browsers. Internet Explorer and Firefox render custom stylesheets (CSS) differently. The differences are not great (mostly with respect to 'padding' and 'margins'). Still, your layout might need some final tweaking to display properly in both browsers.
Highly recommended is the Firefox Web Developer Extension that adds a menu and a toolbar to the browser with various web developer tools. It greatly speeds up editing/modifying CSS.
Download Firefox 2.0 here.
Try the Qute Theme (v3.2.2). It's very nice and simple!
______________________________________
*If you accidentally close a tab you can bring it back by hitting Shift+Ctrl+T (on Windows) or Shift+Cmd+T (on a Mac).