Sony introduces first commercial OLED television at CES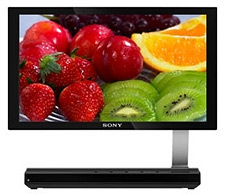 Sony has introduced the first OLED television at CES 2008. According to Sony, the 11-inch (measured diagonally) XEL-1 model is just about 3 millimeters thick and offers picture quality with extremely high contrast, outstanding brightness, exceptional color reproduction, and a rapid response time.
The OLED display panel uses extremely low power levels since the light-emitting structure of the panel eliminates the need for a separate light source. As a result, OLED panels can be up to 40 percent more efficient per panel inch compared with a conventional 20-inch LCD panel. Additionally, since OLED displays create their own light, any mercury associated with traditional backlighting is eliminated. OLED displays can prevent light emission when reproducing shades of black, resulting in very deep blacks and a contrast ratio of over 1,000,000:1.
The Sony XEL-1 features the latest connectivity options, including two HDMI inputs and a Memory Stick® slot for viewing high-resolution photos.
The Sony XEL-1 is available now at Sony Style® retail stores nationwide for about $2,500. Initially, supplies will be limited.